1
Price Your Home
Start with our free & instant
home valuation today.
Why is the initial pricing so important?

About 50% of your total views will happen in the first seven days. If you price your home too high, you may find your home on the market for longer than expected.

How do we determine your price virtually?

We request home photos and property details prior to your market advisor consultation to inspect the state of your home. Our savvy and experienced agents will examine the state of your home and determine its value virtually.
The 3 Factors To
Pricing Your Home Accurately
Local Market & Property Value

Your square footage, the year your home was built, standard amenities, and your surrounding neighborhood.

Our home valuations are powered by HouseCanary, an industry trusted source for market valuation.

Unique & Desirable Home Details

Did you recently remodel your kitchen or upgrade your HVAC system? Or do you have a lakeside view on a peaceful street?

These factors and more can raise your value and impact the overall pricing strategy for your home.

Similar & Nearby Homes Recently Sold or On Market

Sold homes with similar kitchens, bedrooms, baths, and outdoor spaces will determine the pricing benchmark.

Homes currently on the market and their recent price jumps can also influence your listing price.
Wondering what your home's
listing price should be?
Our strategic market advisor consultations are completely free with no-obligation.
Schedule a chat today.
Price your home today
See what our happy homeowners have to say about our pricing and market analysis.
"Door.com has a great competitive listing rate that blows traditional agents out the water and allows me to keep more money in my pocket!"

"Our Door.com team was well informed on data driving the market trends. We negotiated a price reduction that was fair for us while improving our chance of sale."
2
Prep Your Home
Saving Time to Get
Your Home on the Market Quicker
Once you sign a listing agreement, our onboarding team will coordinate premium photography and install the lock box and yard sign in preparation for your listing going live online within four days.
See your savings now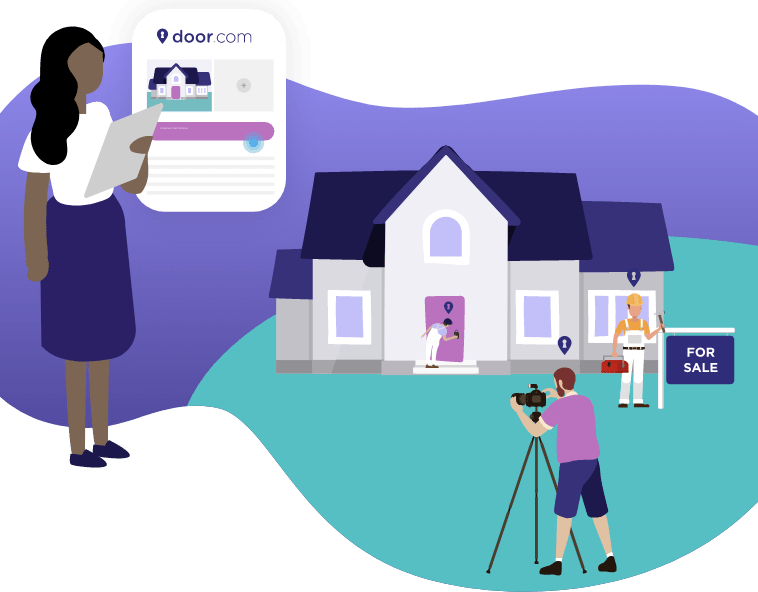 3
Market Your Listing
Your Listing Is Seen By The Right Buyers with
Digital Marketing
We offer beautiful photography, personalized listing descriptions, and targeted advertising across the most popular real estate websites + social media so that your home stand outs online.
All included within our $5K flat fee at close.
50%

 of buyers that will ever view your home online will see it in the first seven days on market.

95%

 of buyers search online first for their next home.
Our homeowners love our speed and return on investment when marketing their homes.
"Door.com is a very knowledgeable and extremely responsive team. And I was very impressed with the photography. It's why our property sold within 7 days."

"We sold our home within in a week after listing. It was really great to have a team to help sell our home from market review all the way to close."
4
Manage & Close Your Sale
Easy & Helpful Tech

Keeps You On Track All the Way to Close
Your Door.com account keeps you up-to-date on the state of your listing and sale, making the whole experience seamless.
Guided To-Do List
Quickly Schedule Services
Track Home Performance
Review Offers and Net Sheet
Follow a Closing Timeline