We always send thank you letters to anyone who sells or buys a home with Door.com because it's the proper thing to do. But this time, we felt compelled to spotlight a few of our gracious online reviewers with a sincere love letter. When you choose Door.com, we make sure you feel special every step of the way. But when you take the time to tell your other homeowners why you picked us, it really makes our day. Here's to you, and making homeownership easier and more affordable for all 👏
To The Client Who Is Super Competitive
Dear Mary,
Remember how much fun we had during our Market Advisor Consultation? Pricing your home was such a joy because we knew immediately that you understood and respected our pricing philosophy. We are always telling homeowners how important the initial pricing is for a successful and profitable sale -- when 50% of your total online views happen in the first seven days, you can't afford to start off on the wrong foot! We were so proud to see your home sell and then help you and your family move into your new house. Being there for you, texting back and forth daily, it was just an amazing ride. And are you loving your new home? We hope you're doing well, and please stay in touch!
Lots of love,
Door.com
In response to:

"Loved the competitiveness of selling with Door.com. They offer better rates than traditional agents which helps give me the most money back for the sale of my house! They were available to answer my txt at all times of the day and all days of the week! I highly recommend and will do business with Door.com again!"
To The Client Who Values the Art of Photography
Dear Rubi,
We consider ourselves lucky when we guide homeowners go through the entire process of selling their old home and buying a new one. And selling your home in a week had the whole office celebrating with you. And thank you so much for highlighting our premium photography in your review. When it comes to making homes stand out online, our professional photos increase show rate as well as help the right buyers zero in on the awesome details of your home. Paul and Justin say hello and we all hope you're loving your new home!
Love,
Door.com
In response to: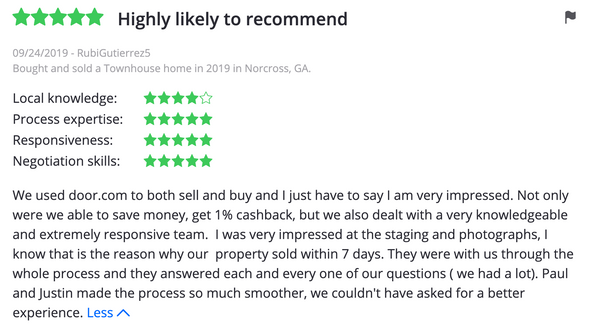 "We used Door.com to both sell and buy and I just have to say I am very impressed. Not only were we able to save money, get 1% cash back, but we also dealt with a very knowledgeable and extremely responsive team. I was very impressed with the staging and photographs. I know that is the reason why our property sold within 7 days. They wee with us through the whole process and they answered each and every one of our questions (we had a lot). Paul and Justin made the process so much smoother. We couldn't have asked for a better experience."
To The Client Who Keeps it Short
Dear Tyler,
We love your practicality and straightforward stance on selling a home. You are who we created this company for -- people who appreciate the simple, affordable and efficient path to getting things done. Thanks for keeping it to the point.
Best wishes,
Door.com
In response to:

"Great customer service. Answered all questions quickly with no fluff or beating around the bush. I felt that my needs were prioritized. Best part, no hidden fees."
Make the Next List & Share Your Door.com Experience
If your Door.com review didn't end up on top this time, don't worry! We're always rereading these (for motivation – we swear, we're humble!) and adding more to our collection of the best real estate reviews.
To share your great experience with Door.com, take a few minutes to add a review either Zillow, Facebook or Google.
We can't wait to read them!