Why are we demanding change in the real estate industry? Because selling and buying homes shouldn't have to be so stressful, cumbersome, and expensive. Traditional real estate agents are still using outdated practices and charging high commissions, but we believe homeowners deserve a better option (enter Door.com).
Here's the best of recent Door.com reviews from Facebook & Zillow. These comments keep us motivated to continue improving the home selling and agent experience. And since we don't like to brag too much, we're letting our clients do it for us.
The Client Who Saved the Most
"Door sold my house in 9 days and saved me $20,000 in realtor fees. The stager, photographer and listing agent were professional, efficient and effective. Closing was smooth and happened on time."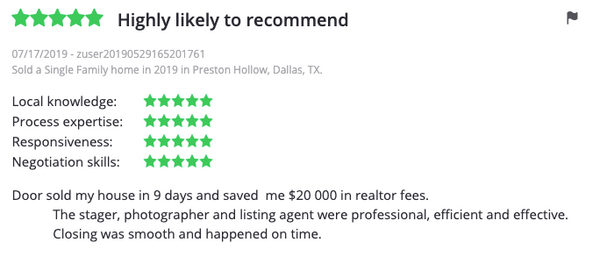 We celebrate every dollar we save our clients (and we've had 14,300,000 mini celebrations to be exact). But we get really excited when a homeowner can walk away from a sale with $20K of savings. Rather than getting stuck with high realtor commission, hidden fees or unexpected challenges, this sale went along swimmingly. Also, nine days on the market is not something to ignore. Let's raise a glass to all the homeowners who sell their homes in less than two weeks while saving their home equity as well as their peace of mind!
The Client Who Saw the Light
"What a wonderful experience!!! I was extremely skeptical at first. From my very first phone call the service was impeccable. I never had to wait to talk to anyone. We kept telling ourselves something bad is going to happen. There are bound to be some hidden fees. Well there weren't. Everything promised was delivered. We estimated we saved almost $11,000 going with Door. No joke. I would recommend them to anyone. As funny as this sounds, I feel like the employees and myself become friends. Let me tell you that is an awesome feeling when you're putting your biggest investment in their hands."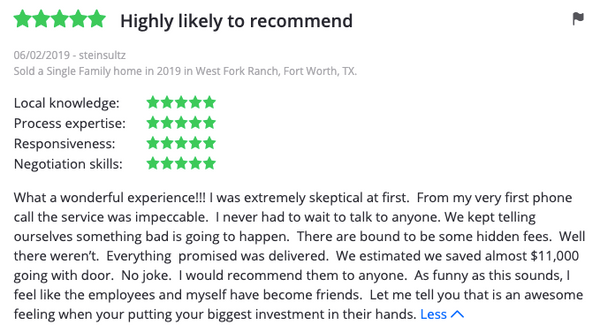 We get it. Some things are hard to believe – like a $5K flat fee to sell your home. But we're not a fantasy. Door.com is the real deal. While we hear "you get what you pay for" often from traditional real estate agents, our amazing clients combat those misconceptions daily with Door.com reviews like this one. We are affordable, easy to work with, and as @steinsultz found out, we are no joke.
The Client Who Loves A Good Pun
"We worked with several Door.com agents throughout our house buying and mortgage process - everyone from the real estate side to the lending side to the escrow side was super professional, responsive, knowledgeable and helpful. Big thanks to Paul Leddy, Emily Brown, Tyler Salmon, Tammie Hilton, Justin King, Matt, and the two Savannah's, etc.! Paul especially was very patient with us as we went through the buying process with two house. Buying a house the Door way should become routine. The traditional route is too cumbersome. Great job to everyone at Door.com, and a BIG thank you for working with us!"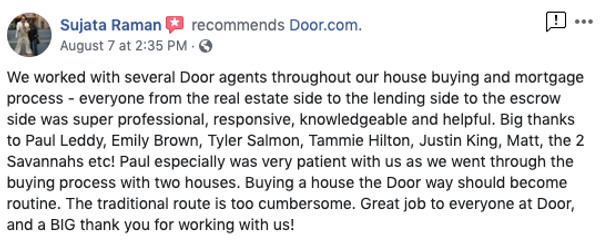 Can you spot the subtle punny statement? We love a good play-on-words, especially when our name is part of it. Sujata, we love you, and not just because you remembered every single person's name who helped you during the process. There's no need to thank us, we should be thanking you for the stellar Facebook review.
Make the Next List & Share Your Door.com Experience
If your Door.com review didn't end up on top this time, don't worry! We're always rereading these (for motivation – we swear, we're humble!) and adding more to our collection of the best real estate reviews.
To share your great experience with Door.com, take a few minutes to add a review to either Zillow, Facebook or Google. We can't wait to read them!